Signs of Infestation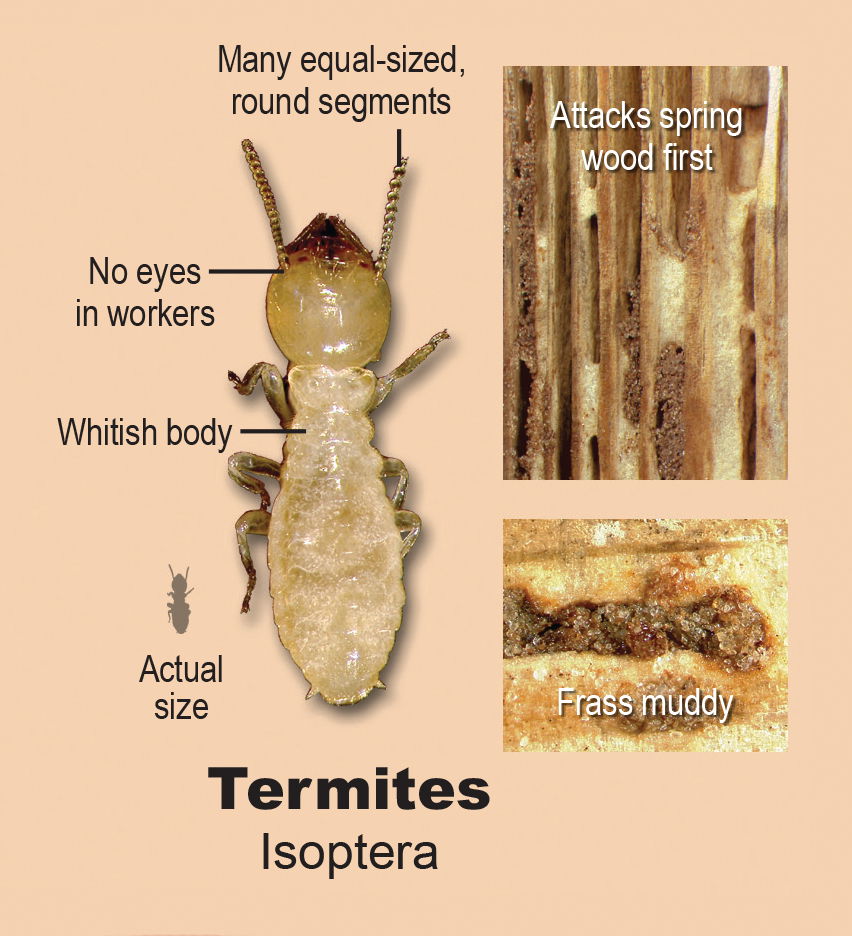 Generally, the first sign of infestation is the presence of swarming termites on the window or near indoor light. If they are found inside the house, it almost always means that they have infested. Other signs that may be found are termite wings on window sills or in cobwebs, and shelter tubes, which are tunnels constructed by the termites from soil or wood and debris. Usually, wood damage is not found at first, but when it is found, it definitely reveals a termite infestation. Anywhere wood touches soil is a possible entry into a home for termites.
If you see the following signs in your house, you might have termites:
• sawdust-like droppings;
• dirt or mud-like tubes or trails on the structure;
• damaged wood members (like window sills); and
• swarming winged insects within the structure, especially in the spring or fall.
Prevention
Many termite problems can be prevented. The most important thing to do is to deny termites access to food (wood), moisture and shelter. Follow these suggestions:
have at least a 2-inch clearance between the house and planter boxes, or soil-filled porches;
eliminate all wood-to-soil contact, such as trellises, fence posts, stair casings and door facings (they can be put on masonry blocks or on treated wood);
separate shrubbery from the house to help make it easier to inspect the foundation line;
use wolmanized wood (pressure-treated wood) so that rain will not rot it;
seal openings through the foundation;
remove wood scraps and stumps from around the foundation;
have at least 12 to 18 inches of clearance between floor beams and the soil underneath.
EHS will have a trained licensed wood destroying inspector to inspect and report their findings on form NPMA-33 provided to the client.